the Top 37+ Ecommerce SEO Tools of 2023: Essentials for Online Retailers
Ecommerce is not just about having great products. It's also about making sure people can find your online store. That's where SEO, or Search Engine Optimization, comes in. It's like a toolkit that helps your online store show up higher on Google and other search engines. This is really important because it helps more customers find you.
But why are the right SEO tools so important for your online store?
It's because they help you understand how to make your website better for your customers and for search engines. These tools can show you the best words to use on your site and help fix any website problems that might stop customers from visiting.
The tools we're going to talk about do a lot of different things. Some help you write better product descriptions, while others look at what your competition is doing.
Choosing the right tools can make a big difference. They help you get your products in front of more people and can even make your website easier to use.
As you read about these different SEO tools for ecommerce, think about what your store needs the most. The best tools for you are the ones that fit what your ecommerce store is all about and help you reach your goals. These tools aren't just about getting more clicks; they're about connecting with your customers and growing your business.
A Guiding Compass: The Role of Ecommerce SEO Tools
Ecommerce SEO tools act like dedicated guides leading you through the dense forest of digital marketing strategies. They reveal insights into how well your website is performing from an organic search perspective while suggesting actionable improvements. The beauty of these tools lies in their ability to crunch humongous volumes of data in the blink of an eye—a task that would take humans countless hours if done manually—providing detailed analytics and metrics about keyword rankings, backlink profiles, competitor performance, site architecture flaws and so much more.
Armed with this wealth of data-driven insights, ecommerce businesses can craft SEO strategies that are not just effective but also personalized to their unique needs. The results?
Enhanced search engine visibility, improved organic traffic, higher conversion rates and ultimately, increased sales. Truly, the best seo tools ever for ecommerce are the secret weapons of the successful online merchant.
Titans of the Trade: The Big Players in Ecommerce SEO Tools
Unveiling the Giants: Google Analytics, SEMrush, Ahrefs
The world of ecommerce SEO is punctuated by immense digital behemoths - powerhouses that have not only defined but continue to redefine, the landscape. At the forefront are three platforms that need no introduction: Google Analytics, SEMrush, and Ahrefs. Google Analytics is more than just a household name; it's essentially woven into the fabric of online marketing.
This free tool provides insights into your website traffic and user behavior which are invaluable for any online business. It tells you where your visitors come from, what they do on your site, and what kind of content or products interest them most.
SEMrush and Ahrefs may not be as universally recognized as Google's offering - at least outside digital marketing circles - but their influence is no less immense. SEMrush is a comprehensive suite covering everything from keyword research to competitive analysis.
It illuminates your competitors' strengths and weaknesses and provides actionable insights to outperform them. Ahrefs also offers an impressive toolkit with a focus on backlinks – essential for website authority.
You can probe into the backlink profile of any website or page on the internet with extraordinary detail. Like its peers in this trio of titans, it also covers an array of other areas such as keyword tracking and rank monitoring.
The Distinctive Edge: What Sets These Tools Apart?
Beyond their significant reputations and extensive capabilities lie unique features that make these tools stand out from dozens available today. Google Analytics shines with its integration capabilities.
Being part of Google's ecosystem means it works seamlessly with other offerings like AdWords or Data Studio, providing a complete picture of your online presence. The real-time activity feature is a gem, offering live data about users currently on your site.
SEMrush boasts an exceptional feature named "Traffic Analytics", which provides thorough details about a website's traffic sources, regional distribution, visitor behavior and device type breakdown. It's like having the Google Analytics data of any website you wish to analyze at your fingertips. Ahrefs' unique advantage lies in its superb backlink database - probably the best on the market.
This makes it an indispensable tool for link-building campaigns. Its 'Content Explorer' is another crowning jewel, enabling you to discover the most popular content within your niche or any topic of interest.
The Tools
Keyword Research and SEO Strategy
Ahrefs is a comprehensive SEO toolset that offers a wide range of functionalities, including site audits, keyword research, backlink analysis, and competitor research. It's known for its extensive backlink database and user-friendly interface. Ahrefs allows users to see which websites are linking to their site, what keywords they're ranking for, and how they stack up against competitors. It also provides valuable insights into the search volume, keyword difficulty, and ranking potential of keywords.
SEMrush is a powerful digital marketing tool that offers comprehensive solutions for SEO, pay-per-click (PPC), social media, and content marketing. It provides in-depth analytics and insights into organic and paid search performance, competitor analysis, and content optimization. SEMrush's features include keyword research, site audits, traffic analytics, and brand monitoring. It's particularly beneficial for conducting detailed competitive analysis and identifying gaps in the market.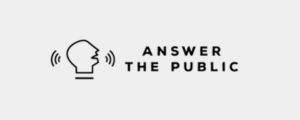 AnswerThePublic is a unique consumer insight tool that visualizes search questions and suggested autocomplete searches in an image called a search cloud. By typing in a keyword, users can get a comprehensive view of the queries related to it. This tool is invaluable for understanding the specific questions and concerns of a target audience. It helps in content ideation by revealing the range of queries that people are asking around a particular topic.
LowFruits is an SEO tool that helps identify low-competition keywords, making it easier to rank in search results. It's designed to uncover 'low-hanging fruit' opportunities in keyword niches that may have been overlooked. The tool analyzes SERPs (Search Engine Results Pages) to pinpoint keywords with weak competition and offers insights into the type of content that ranks for these terms. This makes it especially useful for finding gaps in content that can be exploited for SEO gains.
Ubersuggest is a keyword discovery tool that offers insights into the SEO strategies that are working for others in your market. It provides data on keyword search volume, competition, and seasonal trends. Ubersuggest also offers keyword suggestions both for long-tail keywords and content ideas, along with insights into backlinks and a site's overall SEO health. It's a user-friendly tool suitable for both SEO beginners and seasoned professionals.
Moz Pro is a suite of tools that covers various aspects of SEO, from site audits and keyword research to link building and page optimization. It's known for its Domain Authority metric, which helps gauge a website's likelihood of ranking in search engines. Moz Pro also offers features like a Rank Tracker, On-Page Grader, and a powerful Keyword Explorer. It's a well-rounded tool that provides actionable insights and is suitable for businesses of all sizes.
Keyword Tool uses Google Autocomplete to generate hundreds of relevant long-tail keywords for any given topic. It provides an easy way to explore different keyword variations and understand how people are searching for a particular subject. The tool is particularly useful for uncovering hidden, less competitive keywords that might not be obvious but could drive valuable traffic. Keyword Tool also offers insights for various platforms including YouTube, Bing, and Amazon.
KWFinder is a keyword research tool known for its simplicity and effectiveness in finding long-tail keywords with low SEO difficulty. It provides detailed information about search terms, including search volume, trend, CPC, and level of competition. KWFinder also offers insights into the keywords your competitors are ranking for, which can inform your SEO strategy. The interface is user-friendly, making it accessible for beginners while still powerful for advanced users.
SE Ranking is an all-in-one SEO software that offers tools for keyword rank tracking, site auditing, backlink checking, and more. It provides a comprehensive set of features to monitor and enhance online visibility. SE Ranking's versatility makes it suitable for small businesses and large enterprises alike. Its user-friendly dashboard gives a clear overview of a site's SEO performance, making it easier to track progress and make informed decisions.
Searchmetrics provides a suite of SEO and content marketing tools, delivering in-depth insights into search performance and content optimization. It offers features like keyword research, competitive analysis, and site audits. Searchmetrics is known for its robust data analytics and reporting capabilities, making it a favorite among large enterprises and agencies. It helps in understanding market trends and aligning content strategies with what audiences are searching for.
MarketMuse is an AI-powered content planning and optimization platform that analyzes your content and compares it to leaders in the space. It suggests improvements and helps in planning content that covers topics more comprehensively. MarketMuse offers tools for keyword research, content creation, and optimizing existing pages. The AI-driven recommendations make it easier to produce content that is both high-quality and SEO-friendly.
Majestic SEO specializes in backlink analysis and offers tools for exploring and tracking the backlink profile of any website. It provides insights into the number and quality of backlinks, helping users understand their site's authority and the impact of their link-building strategies. Majestic also features tools for site comparison and tracking your link-building progress over time. Its comprehensive backlink database makes it an essential tool for SEO professionals.
Content Creation and Optimization
Jasper is an AI-powered writing tool that excels in creating engaging, SEO-friendly content. It helps users in crafting compelling product descriptions, blog posts, and marketing material. Jasper's ability to understand context and generate relevant content makes it a favorite tool for content marketing. It integrates smoothly with various SEO strategies, assisting ecommerce websites in producing content that resonates with their target audience and aligns with relevant keywords.
Claude AI is an AI content generation tool focused on creating natural and conversational content. Its strengths lie in its ability to understand and replicate human-like text, making it ideal for crafting user-friendly product descriptions and blog content. Claude integrates well with ecommerce SEO strategies, ensuring that the content not only appeals to readers but also aligns with the best practices of search engine optimization, particularly in finding relevant keywords.
PerplexityAI is an advanced AI tool designed to generate high-quality content by answering complex questions. It is particularly useful for ecommerce sites looking to create detailed and informative product FAQs, blog posts, and guides. By leveraging its capabilities, ecommerce businesses can enhance their content marketing efforts, aligning with SEO review tools and improving their website's search traffic. PerplexityAI is adept at incorporating relevant keywords into its content, making it a valuable asset for any ecommerce SEO strategy.
ChatGPT is a versatile AI tool capable of generating human-like text suitable for a variety of content needs. It can be particularly effective in creating SEO-optimized articles, product descriptions, and customer communications for ecommerce websites. ChatGPT's ability to adapt to different writing styles and seamlessly integrate target keywords makes it a powerful tool in any ecommerce SEO toolkit. Its proficiency in generating content that boosts traffic to your website is a key feature for enhancing ecommerce SEO.
Copy.ai is an AI-driven tool that specializes in generating creative marketing copy, including product descriptions, emails, and ad copy. It's designed to help ecommerce businesses create compelling and SEO-optimized content that attracts and engages customers. Copy.ai can be an invaluable tool in the ecommerce SEO strategy, particularly when it comes to crafting content that incorporates long-tail keywords and aligns with the latest trends in content marketing and Google search.
Frase is an AI content tool that assists in creating and optimizing content for search engines and user intent. It's especially useful for ecommerce websites looking to enhance their content strategy by focusing on target keywords and relevant topics. Frase analyzes top-performing content in search results and provides recommendations for content optimization. This makes it a go-to tool for ecommerce businesses aiming to improve their search engine rankings and website performance through effective content marketing.
Clearscope is a content optimization platform that assists in researching, writing, and optimizing content for better SEO performance. It is particularly adept at identifying target keywords and providing actionable insights for content improvement. Clearscope is highly valued in ecommerce SEO for its ability to improve the relevance and quality of website pages, thus enhancing their visibility in Google search results. Its focus on comprehensive SEO audits of content makes it a must-have in any ecommerce SEO toolkit.
Outwrite is a writing enhancement tool that not only polishes content but also provides SEO insights. It's ideal for ecommerce businesses looking to improve the readability and effectiveness of their website content. Outwrite helps in identifying and fixing SEO issues such as broken links and poorly optimized content. Its ability to enhance the overall quality of writing while ensuring SEO-friendliness makes it a valuable addition to the best ecommerce SEO tools.
Surfer SEO is a tool that analyzes your website content against top-performing pages in search results. It offers detailed insights into how to optimize content for better search engine rankings. Surfer SEO is especially beneficial for ecommerce businesses looking to enhance their on-page SEO. By focusing on key aspects such as site audits, relevant keywords, and technical SEO audits, Surfer SEO provides ecommerce sites with advanced features necessary to improve their site's SEO and attract more traffic.
Technical SEO and Site Auditing
Screaming Frog SEO Spider is a highly popular tool among ecommerce businesses for conducting technical SEO audits. It crawls websites, much like a search engine, to collect data on everything from broken links to redirect issues. This tool is particularly adept at analyzing large sites, making it suitable for ecommerce sites with extensive product ranges. It integrates with Google Analytics and Google Search Console, allowing for comprehensive analysis of SEO performance and content strategy.
SEOmator is an in-depth SEO auditing tool that offers detailed analysis and reports on a website's overall SEO health. This tool delves into aspects such as on-page optimization, off-page SEO, and usability. SEOmator's advanced features make it a favorite ecommerce SEO tool for businesses looking to conduct comprehensive SEO audits. Its ability to identify and suggest fixes for various SEO issues helps ecommerce sites enhance their search engine rankings and overall website performance.
SEO PowerSuite is a comprehensive collection of tools, making it one of the best ecommerce SEO tools for ecommerce. It covers everything from keyword research to site audits, backlink analysis, and rank tracking. The suite's ability to handle different aspects of SEO, including identifying long-tail keywords and conducting technical SEO audits, makes it particularly beneficial for ecommerce businesses. It provides a one-stop solution for managing a website's search traffic and optimizing its SEO strategy.
ContentKing is a real-time SEO auditing and content tracking tool, offering continuous monitoring and reporting on website changes. It's especially useful for ecommerce sites in maintaining an up-to-date SEO strategy and responding quickly to any SEO issues. ContentKing's focus on real-time analysis aligns well with the dynamic nature of ecommerce websites, helping them stay ahead in search engine results and maintain optimal SEO performance.
Schema Markup Validator is a free tool provided by W3C that checks the structured data on websites for proper implementation. This tool is essential for ecommerce websites to ensure their product listings are correctly marked up, which can enhance visibility in search results. By validating structured data, ecommerce businesses can take full advantage of rich snippets in search results, improving click-through rates and search engine rankings.
Web Analytics and Performance Tools
Google Analytics is an indispensable free tool for ecommerce websites, providing extensive insights into website traffic, user behavior, and customer journeys. It's crucial for understanding how visitors interact with an ecommerce site, from the products they view to the paths they take before making a purchase. Integrating seamlessly with Google Ads and Google Search Console, Google Analytics offers in-depth analysis of search traffic, enabling ecommerce businesses to tailor their content marketing and SEO strategies. By leveraging data from Google Analytics, ecommerce sites can optimize their site's SEO, enhance website performance, and focus on relevant keywords to attract more targeted traffic.
Google PageSpeed Insights is a crucial tool for analyzing the performance of website pages, especially for ecommerce sites where speed can directly impact user experience and sales. This free Google tool evaluates the loading times of pages and offers suggestions for improvement, which is vital for maintaining a competitive edge in search engine rankings. A fast-loading ecommerce website not only provides a better user experience but also aligns with Google's search algorithms, potentially leading to higher rankings. By addressing the technical aspects highlighted by Google PageSpeed Insights, ecommerce businesses can ensure their site meets the best practices for speed and SEO performance.
GT Metrix is a performance analysis tool that goes hand in hand with Google PageSpeed Insights, offering detailed insights into the factors affecting a website's load time and overall speed. For ecommerce businesses, GT Metrix is an invaluable tool for ensuring their site is optimized for speed, a key factor in both user experience and SEO. It provides a comprehensive analysis of a website's loading performance, identifying issues that could hinder search engine rankings and user satisfaction. By using GT Metrix, ecommerce sites can pinpoint and address specific areas for improvement, enhancing both their SEO strategy and website performance, which is essential for attracting and retaining customers.
Search Engine Tools
Google Search Console (GSC) is a free tool that is essential for any ecommerce business looking to optimize their site's SEO. It provides valuable insights into how Google views your website, including data on search traffic, search engine rankings, and indexing status. This tool is particularly useful for identifying and fixing website errors, submitting sitemaps, and understanding which search queries drive traffic to your site. By using GSC, ecommerce stores can refine their content strategy, focus on relevant keywords, and enhance their website performance for better visibility in Google search results.
Bing Webmaster Tools is a free service provided by Microsoft's Bing search engine, similar to Google Search Console but for Bing's search engine. It offers ecommerce businesses insights into their site's performance on Bing, including data on search traffic, keyword research, and site audits. By utilizing Bing Webmaster Tools, ecommerce sites can expand their reach beyond Google, tapping into a different user base and potentially increasing their overall search traffic and search engine rankings.
Google My Business is a free tool by Google that allows businesses to manage their online presence across Google's services, including Search and Maps. For ecommerce businesses with physical storefronts, it's an invaluable tool for enhancing local SEO and attracting local customers. By optimizing their Google My Business listing with accurate information, photos, and customer reviews, ecommerce stores can improve their visibility in local search results, drawing more traffic to both their physical and online stores.
Ecommerce Platform-Specific Tools
SellerApp (for Amazon sellers) is a specialized analytics and optimization platform for Amazon sellers. It focuses on improving product visibility and sales on Amazon, offering tools for keyword research, product tracking, and competitor analysis. For ecommerce businesses operating on Amazon, SellerApp provides crucial insights into search volume, relevant keywords, and the overall performance of their products. By leveraging SellerApp's advanced features, Amazon sellers can optimize their listings for better rankings and increased sales on the platform.
Yoast (for WordPress sites) is a popular SEO plugin for WordPress sites, known for its user-friendly interface and powerful features. It guides ecommerce businesses in optimizing their content for search engines, focusing on elements like meta tags, readability, and keyword optimization. Yoast's ability to conduct comprehensive SEO audits and provide actionable recommendations makes it one of the favorite ecommerce SEO tools for WordPress users. By using Yoast, ecommerce sites can ensure their content is SEO-friendly and ranks higher in search results, driving more traffic to their website.
All In One SEO (AIOSEO) (for WordPress sites) is another highly regarded WordPress plugin offering a range of SEO seo tools for ecommerce too. It simplifies SEO processes for online stores, providing features for optimizing titles and meta descriptions, generating XML sitemaps, and conducting on-page analysis. AIOSEO is particularly effective in helping ecommerce sites improve their technical SEO audit, ensuring their website is optimized for both search engines and users. With its intuitive interface and powerful tools, AIOSEO is a go-to solution for enhancing an ecommerce site's SEO on WordPress.
Verbolia (Page Creation Automation) is a unique tool specializing in automated page creation for SEO. It helps ecommerce businesses by generating SEO-optimized landing pages, tailored to specific keywords and content strategies. This automation can be particularly beneficial for targeting long-tail keywords and improving the site's SEO performance. Verbolia's technology enables ecommerce sites to rapidly expand their online presence with optimized pages, enhancing their visibility in search results and driving more targeted search traffic to their store.
Niche Finders: Specialized Ecommerce SEO Tools
The Power of Singular Focus: Spotlight on Moz, SpyFu, and Yoast
While the big-name tools certainly provide a plethora of features and extensive capabilities, there's something to be said for specialized ecommerce SEO tools which focus on delivering excellence in very specific areas. Take Moz for example, a tool that has earned its stripes as a leader in the domain of Link Building. Offering powerful features such as Link Explorer and Rank Tracker, Moz provides ecommerce businesses with detailed insights into their link profile and allows them to strategize based on competitive intelligence.
SpyFu is another niche SEO tool which excels in the realm of competitor analysis. A cornerstone of any successful ecommerce strategy is understanding your competition.
SpyFu delivers this by enabling users to search for any domain and see every place they've shown up on Google: every keyword they've bought on Adwords, every organic rank, and every ad variation in the last 13 years. Quite formidable indeed!
Yoast, meanwhile has carved out a niche for itself focusing specifically on Wordpress optimization. It's an indispensable tool for any Wordpress-based ecommerce site looking to optimize their content with real-time feedback about keyword usage, readability scores, meta descriptions and more.
A Tailored Suit fits Better: Catering Specific Ecommerce Needs
These specialized tools often provide just what an ecommerce business needs - tailored solutions that address specific pain points or goals. For instance, if link building is an important part of your strategy but you're struggling to get it right, Moz emerges as the perfect solution offering deep link analysis coupled with suggestions for improvement. On the other hand, if you're operating in a highly competitive market where keeping tabs on your competitors' moves could give you that much-needed edge; SpyFu becomes your go-to tool providing exhaustive data about your competitors' strategies.
And for businesses that have chosen to build their online store on Wordpress, Yoast provides a comprehensive all-in-one SEO toolkit that's specifically designed to work seamlessly with the platform. It helps Wordpress users meet technical SEO standards effortlessly and also ensures the content is optimized for search engines while maintaining good readability for humans.
In essence, these specialized ecommerce SEO tools offer meticulously crafted solutions that address specific ecommerce needs. They may not have the breadth of features offered by big players but their depth in specific areas makes them invaluable to ecommerce businesses.
The Unsung Heroes: Lesser-known But Effective Ecommerce SEO Tools
Unveiling Hidden Gems
In the bustling world of ecommerce SEO, there are tools that often fly under the radar but offer impressive feature sets and capabilities. These hidden gems deserve recognition for their unique abilities to optimize websites and drive traffic. First on our list is Screaming Frog.
Despite its whimsical name, it's an incredibly powerful tool used by SEO professionals worldwide. Its primary function is to crawl websites and collect critical data like URLs, titles, metadata, broken links which can be exported and analyzed in detail.
A distinguishing feature of Screaming Frog is its ability to visually map out a website's architecture in a tree graph - a priceless aid when auditing complex sites. Secondly, we have Ubersuggest - a robust tool developed by renowned digital marketer Neil Patel.
Ubersuggest shines in the realm of keyword research by providing detailed keyword ideas along with search volumes and competition data. Additionally, it offers content and keyword ideas based on what's trending or has performed well in your niche.
But not least is Answer The Public – a consumer insight tool that visualizes search questions and suggested autocomplete searches from Google about your product or service in an image called 'search cloud'. It's an excellent resource for content creation or refining your website's FAQ page.
Unique Selling Points
Now that we've uncovered these lesser-known tools, let's delve into what makes them uniquely attractive within the saturated market of ecommerce SEO solutions. Screaming Frog: Screaming Frog excels at technical SEO audits - it enables you to identify issues such as broken links or duplicate pages quickly so you can fix them before they harm your site's performance.
It also supports integration with Google Analytics which gives you further insights into how users interact with your site. Ubersuggest:
Ubersuggest stands out for its user-friendly interface and comprehensive keyword data. It provides not only a list of keyword suggestions but also vital SEO metrics like search volume, competition, and seasonal trends.
Moreover, it offers content ideas based on the keywords you input – a nifty feature for businesses struggling with content creation. Answer The Public:
Answer The Public is unique because it taps into the queries that real people have about your product or service. This consumer insight can give you an edge over your competitors as it helps tailor your content to answer potential customer's questions directly, thereby improving user experience and boosting traffic.
Worth A Shot?
The beauty of these lesser-known tools lies in their specialized abilities to deliver certain aspects of SEO. While they may not offer the all-around functionality of giants like Google Analytics or SEMrush, they do fill specific needs effectively which could make them worth adding to your SEO arsenal. Screaming Frog is excellent for businesses who need a detailed technical audit tool on-hand.
Ubersuggest would be ideal for those who require robust keyword research coupled with highly relevant content ideas. Answer The Public is perfect if you intend to align your website's content more closely with what your potential customers are actively searching for - making them worth at least a trial run in any ecommerce business's SEO strategy.
Feature Focus: The Triumvirate of Ecommerce SEO Tool Excellence
Unlocking the Power of Keywords: Research Capabilities
The potency of an ecommerce tool is often measured by its keyword research capabilities. Keywords are the lifeblood of SEO, serving as the primary conduit through which potential customers find your business in the bustling online marketplace.
To fully leverage this power, a robust keyword research tool is indispensable. It should allow for thorough examination and analysis of search terms relevant to your business, providing insights into their search volume, competitiveness, and seasonal trends.
An exemplary keyword research tool should also deliver a rich repository of long-tail keywords - these extended phrases offer lower competition and higher conversion rates than more common single-word keywords. Another bonus would be providing fruitful suggestions for semantic keywords (LSI), which help enrich your content's relevancy while avoiding unnatural overstuffing with exact-match keywords.
Moreover, a top-tier ecommerce SEO tool would keep you abreast with constantly changing search trends. This means that it updates frequently to help you stay ahead of any algorithm changes or shifts in user behavior.
The Backlink Breakdown: Analysis Features
Next on our exploration journey are backlinks - those crucial signposts that direct organic traffic back from other sites to yours and significantly influence your site's authority score. A proficient backlink analysis feature helps you monitor these incoming links meticulously, understanding which ones contribute positively to your SEO efforts and identifying any potentially harmful ones that could pummel your rankings.
Look out for tools capable of performing comprehensive link audits - complete with data on anchor texts, link types (dofollow or nofollow), linking domains quality, and existing broken links on the site audit your website. It's through such rigorous audits that you can ensure only beneficial backlinks get associated with your site while weeding out detrimental ones swiftly.
Additionally, spying on competitors' backlink profiles will be a piece of cake with a competent tool in possession. It can reveal their top-performing content pieces, link-building strategies, and their high-authority link sources - all vital information you can use to refine your own SEO strategy.
On-page Optimization: Your Personal Guide
The final feature that distinguishes an effective ecommerce SEO tool is its capacity for on-page optimization assistance. This feature often acts as your personal guide, helping you to navigate the labyrinthine world of meta tags, heading tags, URL structures and more. A tool equipped with on-page optimization features can provide you with suggestions for enhancing individual page elements - from title tags that draw clicks to meta descriptions that allure prospects and improve visibility in search engine results pages (SERPs).
It should also bring any duplicate content issues to light before they morph into serious threats. Furthermore, imagine having a tool that could evaluate your website's overall readability.
One that could guide you in structuring your sentences and paragraphs for easy reading while ensuring optimum keyword usage without falling foul of 'keyword stuffing'. A comprehensive ecommerce SEO tool should do all this and more.
When deliberating over an ideal ecommerce SEO suite: prioritize keyword research capabilities for search term insights; backlink analysis features for understanding link influences; and on-page optimization assistance for fine-tuning your site's elements. These key features are the vital components which collectively contribute towards superior online visibility and lead generation.
The Cost Factor: Understanding Pricing Structures of Ecommerce SEO Tools
Decoding the Economics of Ecommerce SEO Tools
When it comes to ecommerce SEO tools, the financial commitment can vary significantly. One key facet to consider is the pricing model utilized by these tools. Firstly, there's the freemium model, a kind of 'try before you buy' approach.
Under this model, basic features are available for use at no cost while access to advanced features necessitates payment. Freemium models are great for beginners or small businesses that are just dipping their toes into the water of ecommerce SEO.
Then we have subscription-based models which typically operate on a monthly or annual fee basis. These usually offer more advanced features and in-depth analyses than their free, seo analysis tool counterparts.
The cost can be steep for some businesses but offers comprehensive insights that could result in significant return on investment if used effectively. Next up: tiered subscriptions where users pay according to levels of service and functionality desired - this model provides scalability as one's business grows.
Finding Your Financial Fit with Ecommerce SEO Tools
Now that we've navigated through the different pricing structures, how do you determine which fits your budget? Begin by identifying your needs - is it keyword analysis you're after, competitor insights, or perhaps better link-building strategies? Depending on what you require most from a tool will dictate whether a lower-tier subscription would suffice or if investing in an all-encompassing package is more prudent.
A practical way to do this is by doing cost-benefit analyses for each potential tool; calculate the value you believe it would add to your business weighed against its price tag. If your budget simply won't allow for top-tier subscriptions, remember - several effective yet affordable tools exist in today's market!
Furthermore, consider potential returns on investment (ROI). A pricier tool might seem intimidating but if it offers features that drastically improve your SEO performance, then considering it as a long-term investment for your business could be worthwhile.
Unraveling the Value in Every Dollar Spent
Choosing the right ecommerce SEO tool also depends on how much monetary value you can squeeze out of it. For instance, some tools might have a higher price tag, but they offer an all-in-one platform with robust features, saving you the cost of subscribing to multiple separate tools.
Some tools offer discounts for annual subscriptions; this could end up being less expensive than paying monthly fees. Also worth considering are hidden costs like charges for additional users or locations - these can add up quickly making what seemed like an economical choice initially no longer financially viable.
Ultimately, understanding pricing structures and aligning them with your budget goes beyond simply looking at dollar signs. The goal is to find a tool that offers maximum functionality and ROI within your financial means.
Ease of Use: Evaluating User Experience in Ecommerce SEO Tools
Grasping the Relevance of Intuitive Design and User-friendly Interfaces
Let's dive right into the heart of an often-neglected yet paramount aspect best ecommerce seo tools – the user experience. The software world has made leaps and bounds when it comes to understanding that technology should be designed to serve humans, not frustrate them. The same applies squarely to ecommerce SEO tools.
The last thing you want, when trying to optimize your site for search engines, is a tool that feels like deciphering ancient hieroglyphics. This is precisely where intuitive design steps in.
An intuitively designed tool requires a minimal learning curve, thus enabling users to hit the ground running with their SEO strategies without getting lost in complex interfaces. User-friendly interfaces are not merely a 'nice-to-have.' They're imperative.
A well-designed interface allows for streamlined task completion, diminishing cognitive load while augmenting productivity. It ensures you spend less time wrestling with software and more time leveraging its capabilities for your ecommerce venture's success.
Unveiling Tools that Shine in the UX/UI Department
Now that we comprehend how pivotal an easy-to-grasp interface is let's look at some stellar examples from our SEO toolbox. Google Analytics is one such tool that stands tall among its peers for providing a highly comprehensible dashboard layout even though it packs an extensive array of features.
From its color-coded graphs to easily navigable reports sections, Google Analytics exemplifies user-centric design done right. SEMrush too deserves a mention here with its intuitive design which makes navigating through its vast range of resources seemingly effortless.
Its visually appealing and clean interface coupled with organized data presentation facilitates simple understanding and quick actions. Yoast SEO plugin for WordPress also garners praise due to its straightforwardness making it specifically popular among beginners or those who wish to handle SEO without stepping into the nitty-gritty of complex data analysis.
In Pursuit of Seamless User Experience
When selecting an ecommerce SEO tool, don't overlook the user experience. It's wise to opt for tools that prioritize simplicity and ease of use over packing in copious amounts of features that might lead to a cluttered and confusing interface.
Remember, time saved on learning how to use the tool effectively is time gained for perfecting your SEO strategies and driving visibility for your ecommerce business. A well-structured, intuitive UI/UX design not only contributes to a more productive user but also fosters an overall positive relationship with the technology itself.
A great UX/UI in an SEO tool is thereby not just a matter of aesthetics or luxury; it's a fundamental part of its efficiency and effectiveness. So choose wisely!
Integration Capabilities: How Well Do These Tools Play With Others?
The Compatibility Conundrum...
In your ecommerce venture, you don't operate in a vacuum. You juggle numerous digital marketing tools like email marketing software, social media management platforms, customer relationship management systems, and more. It's vital that your chosen SEO tool can integrate smoothly with these other applications to ensure a seamless workflow.
Most leading SEO tools are aware of this demand and hence offer varying levels of compatibility. For instance, SEMrush can easily be connected with Google products like Analytics and Search Console.
This allows for comprehensive data analysis without having to hop between platforms. Ahrefs also proposes integration with various project management tools - making it easier to track your SEO tasks in one place.
But what does this mean for you? Well, simply put - efficiency and effectiveness are amplified when your digital toolbox can work together harmoniously.
In the Limelight: Tools That Glide Through Integrations
While compatibility is ever-important, the best SEO tools take it a step further by excelling at integrations. Let's spotlight a few that have mastered the art of playing well with others.
Moz Pro is notorious for its impressive integration capabilities. It effortlessly syncs up with Google Analytics to provide you enriched insights about web traffic alongside other SEO metrics.
Yoast too deserves applause here as it integrates beautifully within the WordPress ecosystem – arguably one of the most prevalent CMS in use today. Apart from customizing every page's metadata and creating XML sitemaps, Yoast also helps maintain a clean WordPress database – ensuring optimal site performance.
There's Ubersuggest; while being an incredible standalone tool for keyword research and site auditing, its capacity to meld seamlessly into your Chrome browser as an extension is truly commendable. This feature lets you get quick SEO insights directly from search engine results pages.
Adopting a SEO tool that integrates smoothly with your existing digital suite is more than advantageous - it's transformative. It allows for better communication, enhanced efficiency, and ultimately, a more streamlined path towards success.
Victory Vignettes: Triumphs with Ecommerce SEO Tools
Every journey has a story, and the realm of ecommerce SEO is no different. Take, for instance, the tale of an online boutique that was struggling to attract traffic to its website.
After months of minimal growth, they decided to implement Yoast as their primary SEO tool. Following Yoast's content analysis and readability score suggestions, they overhauled their product descriptions and blog posts.
Within weeks, organic traffic increased by 40%, bolstering both visibility and sales. Another success story involves an online tech store using SEMrush to overhaul its keyword strategy.
Previously relying on assumptions about what potential customers were searching for, the company was fighting a losing battle in search engine results pages (SERPs). With SEMrush's detailed keyword analysis feature providing insights into popular search terms within their niche and competitive landscape data, they tailored content and meta tags accordingly.
This strategic approach led to a dramatic surge in SERP rankings and a 60% increase in site visits within six months. A final case study highlights the power of lesser-known tools like Screaming Frog for ecommerce businesses with extensive inventory.
A vintage bookseller used this tool's site crawl functionality to unearth multiple broken links that were negatively affecting user experience (UX) and SEO performance. Post-cleanup, not only did bounce rates decrease significantly but average session duration also rose substantially - clear evidence that users were enjoying their browsing experience more than ever before.
The Digital Alchemist's Codex: Concluding Thoughts on Ecommerce SEO Tools
Ecommerce success isn't just about having great products or outstanding customer service – it also hinges heavily on being seen amidst the vast digital marketplace. Strategic use of the best SEO tools can drastically improve visibility by helping refine your content strategy through keyword optimization and backlink analysis, and by enhancing on-page SEO through technical improvements.
The tales told above aren't mere myths or fables; they're real stories of online businesses that harnessed the power of the best SEO tools to climb to new heights. In whatever stage your ecommerce business is, from nascent startup to growing enterprise, these tools offer pathways towards increased visibility and success.
So here's an optimistic spin on the intimidating world of SEO: with a plethora of robust tools at your disposal, each offering unique benefits and strengths, you're not just an ecommerce business owner. You're a digital alchemist, armed with the resources needed to transform your online presence into gold.