68 Best Ecommerce Facebook Ad Examples
Looking for inspiration for your next ad campaign?
Look no further.
We've assembled the best ecommerce facebook ad examples we've seen around the net, to help inspire you to grow your sales through facebook ads.
You can view them all here or fill in email address and we'll send them right to your email.
Pura Vida
This ad shows a person without showing a face, in order to make the product stand out. The earring is the clear focus of the picture, being almost-centered.
Also great use of emojis.
Ralph Lauren
Here's a great example of how to showcase your product in a simple yet creative way.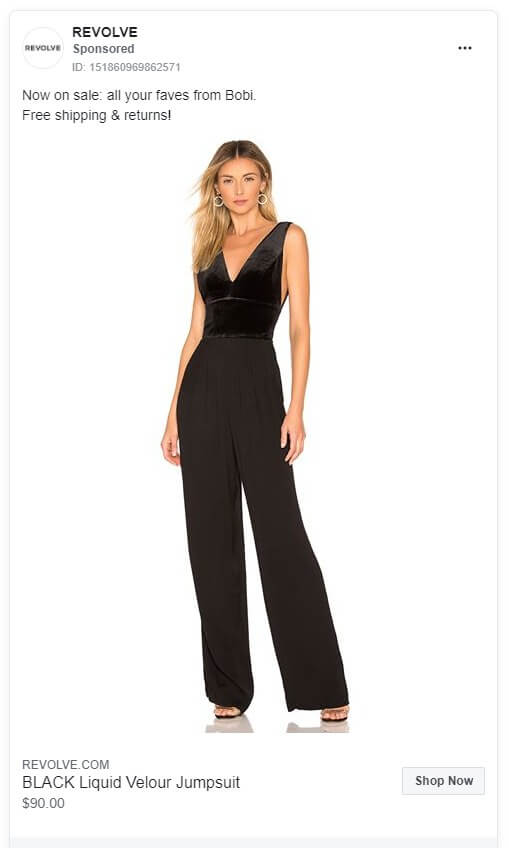 Revolve
The apparel is the focus of this ad. The use of a plain white background makes the jumpsuit pop. This makes the sale price even more desirable.
Pura Vida
Great product focus – awesome use of product and photo colors.
Thistle
Vibrant photos are always a plus when it comes to food photography. Additionally, planning your posts around key times of the year, like New Years is a great way to push promotions & sales.
Sephora
Even though Sephora sells thousands of products, this ad speaks to skin concerns in a simple, yet effective way while showcasing the products.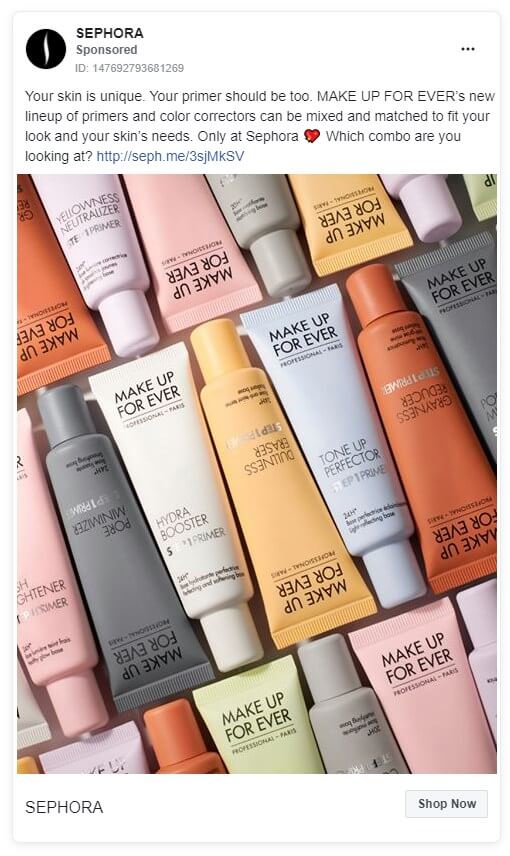 Sephora
Although MAKE UP FOR EVER has many product lines, this ad speaks to the shopper's needs and nicely positions the product for a click-through.
CamelBak
For products like a backpack, using lifestyle photos is a great way to show off product features like CamelBak's Hydration Packs.
Sephora
People consume and process content faster on a mobile device than on a desktop, including videos. Users watch more than 100 million hours of Facebook videos each day. This means testing a video ad vs. image is worth a try!
Brilliant Earth
Sometimes simplicity is best when it comes to Facebook ads. A close shot of the brilliant ring, set against the ocean AND pairing that with their "collection of Beyond Conflict Free™ products makes for a great ad.
Dollar Shave Club
Real people using real products via short videos is a terrific way to demonstrate how great a product is IRL (in real life) ☺ – pairing this with a discount can increase your click-through rate.
Sephora
Not only is the image suberb, with the bright lemon scrub product, but the ad text is descriptive and makes you visualize how nice your skin could feel. Product marketing can be bland so make your words POP!
Chubbies
Simple, but up-close photos for apparel are great for Facebook ads. Using multiple pictures where the background pops with the product are super effective.
Solo Stove
A product with a cute pup is always a great way to attract people to Facebook ads.
Sephora
A simple photo to promote a great 3 for 1 sale. Facebook ads are a great place to promote limited-time product sales.
Shutterfly
Cute and kitchy text to match a cute critter is always an eye catcher on a Facebook ad.
Solo Stove
Solo's Facebook ad definitely showcases the firepit – adding a 5-star review in an ad is a great use of "social proof".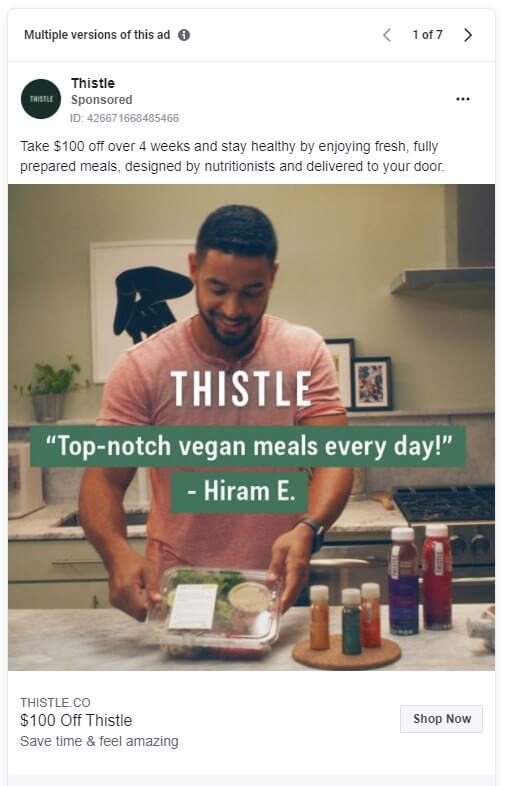 Thistle
When it comes to everyday products like food & meal plans, using an image of the customer experiencing the product is a winner.
Uplift Desk
Minimal photography for the "win" with this Facebook ad! The cool grey tone allows the UPLIFT DESK to jump out of the ad.
Wandrd
Brands show "social proof" with user reviews. Another way is to display other reputable endorsments & features just like Wandrd does with this Facebook ad.
Fender
FENDER is known for their Stratocaster line of guitars. Using video and audio is exactly what this instrument deserves – a true Strat Lover will definitely resonate with the sound and playing of their featured artist, Isabel Torres.
Kelty
The use of video in a Facebook ad doesn't have to be a big production. KELTY created a warm & cozy feel with a couple adventuring & the video rolls with only twinkling lights.
Warby Parker
Warby Parker has revolutionized how people buy new eyeglasses. This ad is consistent with their free Home Try-On process from the ad text to the video and quick quiz driving new customers every month.
Dollar Shave Club
The product and the offer have the main stage in this ad. For subscription product ads – show the products and the package to help the buyer connect to the great products they'll be receiving.
Wine.com
Bold & Simple! WINE.COM has a Facebook ad success with this strategy.
BarkBox
BARKBOX knows how much we all love our pups – their ads are always stuffed full of great ad copywriting to promote their various offers along with images to match.
Shutterfly
Cute kids are always great subjects for Facebook ads. Shutterfly nails it with the cute kiddo with the silly face to help promote their instant book offer.
Harry's
HARRY'S runs multiple ads. This one is heavier on the text with high focus on the products.
Warby Parker
Warby Parker keeps their Spring 2021 ad fresh & clean. The free quiz promotes user engagement to learn more.
Allbirds
Allbirds is able to spotlight their weather-ready shoes – in multiple colors in one ad with the use of a looping video.
Banana Republic
BANANA REPUBLIC uses a clean-cut photo with a clear call to action to promote a new way to stay spiffy for the holidays. Using Facebook ads to promote seasonal offers is a smart marketing strategy.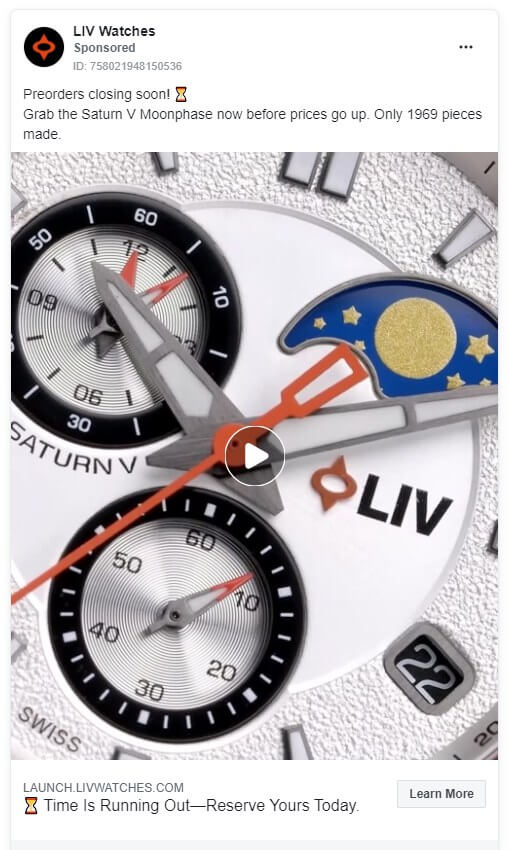 LIV Watches
Preorder announcements via a Facebook ad is a terrific strategy to generate interest in limited/special stock items.
BarkBox
BarkBox is known for their use of fun ad text with accompanying emojis. They keep their photos and videos simple while letting the ad text run the show.
Bombas
BOMBAS ran two variations of this ad celebrating Pride month (June). This video is a loops of celebration graphics to promote their pledge to donate socks to homeless member of the LGBTQIA+ community across the US.
Gerard Cosmetics
GERARD COSMETICS match fun emojis with the shop now button as a main focus vs. being lost in the ad copy.
BOOM by Cindy Joseph
Time and time again we see brands capitalizing on "social proof" for their products. There's no better way than letting customer's 5-star reviews speak for the product. Don't be afraid to "toot your own horn"
Fender
FENDER is a legandary brand, so using that fact in their ads is yet another way to promote social proof around the actual product. Clever usage of product colors directly in the ad photo makes the bass jump off the ad!
Finnish Design Shop
Here's another fantastic example of a furniture company using muted, monochromatic colors and styling in ther Facebook ads. This allows the ad text and the call-to-action to be a front focus for the potential shopper.
Gerard Cosmetics
GERARD COSMETICS uses multiple tactics bundled into one Facebook ad to promote a big annual sales day. They use robust text – similar to a email copy. Because the offer is so robust, adding all the shopping benefits & free shipping is more effective than a simple teaser ad. The grand finale is the picture with not 1, but A LOT of products in pleasing colors – all to mimic the cyber monday-only deals. What better reason to stock up!
Go Pro
What better way for a leading action camera company to promote a top of the line product? Video, of course! GOPRO nails it with their action packed videos.
Ikea
The use of monochromatic color palettes in your ad photography is a suberb way of displaying furniture and home goods.
Jeni's
JENI'S is a fun and yummy brand – their product packaging says it all, so they spotlight this in a simple looping video promoting free delivery when 4+ pints are ordered. This simple video calls attention to great ice cream… but with FRIENDS! This colorful ad promotes Jeni's products, sharing with friends AND getting your 4+ pints delivered to your door for free.
BOOM by Cindy Joseph
BOOM by Cindy Joseph does a fantastic job capitalizing on their customer reviews. If you have a product that your customers continually love – use your stars in your social media ads! ★★★★★
Banana Republic
BANANA REPUBLIC is known for their clean and simple aesthetic. They carry this through nicely in their ads.
BOOM by Cindy Joseph
Here's another brand that brings short videos to their ads. Videos are especially helpful when it comes to cosmetics and skincare products.
Kelty
KELTY keeps it super simple. The product is the main focus. This allows the ad text to pop.
LIV Watches
LIV WATCHES utilizes a Facebook ad to announce that a hot item is back in stock! Ads are a great way to announce product updates.
Warby Parker
When you think of videos for your ads, it doesn't have to be a big production. WARBY PARKER has a clean image and the text is the only moving piece of the video. Try it out!
LARQ
Promoting a great product with a collective benefit for the planet is a great benefit to promote!
Pink Lily
Apparel brands like PINKLILY
PatPat
Cute products and cute text helps to promote  big discounts at PATPAT.
Find some good ideas?
Be sure to get the download so you can review them again easily in the future when you need a couple of ecommerce facebook ad examples to get your creative juices flowing.
We work with 6 figure stores and brands to help them grow and hit the next level.
Contact Us to start a conversation and see if we're a good fit for your business.